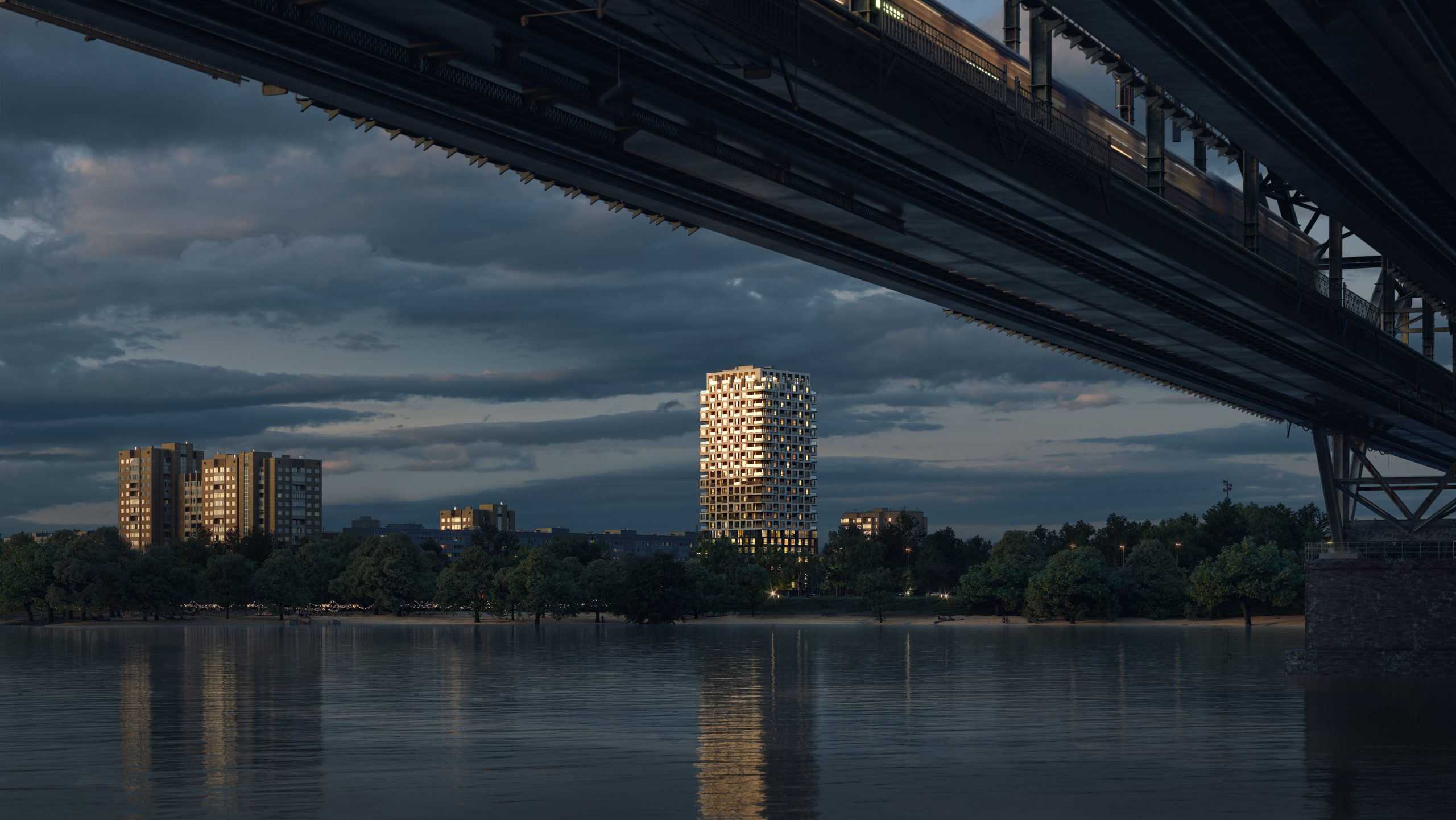 Kub29 is a residential tower located on the left bank of the Dnipro river in Kyiv. The task was to improve the project developed by the previous architect. It was necessary to keep the existing structural grid, the main core, and the apartment cores. We were working with the facades, functional program, types, and layout of the apartments. Projects were developed as a complex solution that includes design for public interior spaces and landscape areas of the housing complex.
The tower is located on the bank of the Dnipro. It is a mixed-use tower with two levels of underground parking. The ground floor has a commercial function, the 1 and 2 floors accommodate offices, apartments are located from the 3 to the 22 floors, and from 23 to 25 two-level penthouses.
The volume of the building is visually divided into 2 parts. The architecture of the first 7 floors is minimalistic and corresponds to the context of modernist residential development. The facade of the building is decorated with tiles that are similar to the tiles used in the surrounding modernistic buildings, but contrasting in color. Commercial and office spaces, as well as smaller apartments, are located on these floors. From the 8 floors, you start to get great views from all four sides. This floor is made with panoramic glazing and serves as a pause between different facade languages. Starting from the 9 floors, a new facade language is being used. All vertical structural elements remain the same. But the floor plane has been extended up to 2 meters at 2 opposite corners. In this way, the floor plan becomes asymmetrical, and the number of apartments from which you can see the Dnipro was maximized. Due to the consoles, the total area of the house was increased. What made it possible for each apartment to have at least 1 loggia – was a small terrace. The facade and the layout of the apartments alternate on each floor. That makes it possible to have a diversity of apartments. In total, Kub29 provides more than 40 types of different apartment layouts. The facade is opposite to the lover floors, it has a complex shape but simple material and color solution. The main color of the facade is white, and the logia or terraces are made with a wooden texture.